Boris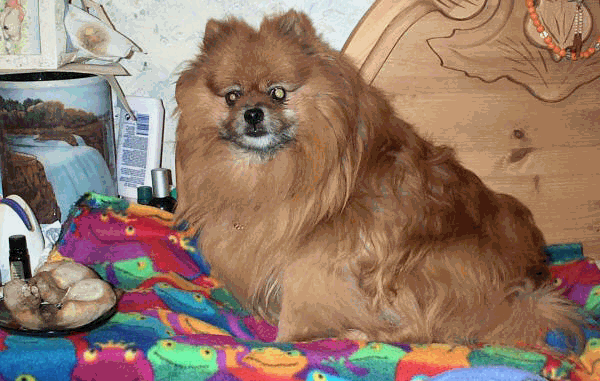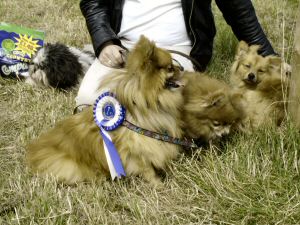 On July14th, 1990, when we first met and fell in love, Boris was a scruffy little scrap, covered with fleas, ticks and sore patches, with cancur, worms and sore patches and no coat.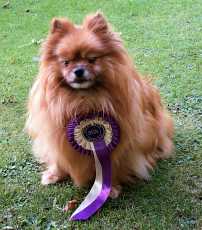 He also had a cat collar round his neck, which was so tight he could not bark properly, and he had never lived in a house - just a garden shed.
From day 1 he has slept on my pillow, and he always will!
There was no looking back for him, and he has gone from strength to strength!
In August 2004 he won a rosette in the Greatwood dog show, of which we are very proud!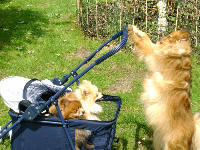 He was born with double Hip Dysplasia, and for the last 4 years has worn a magnetic collar and a copper chain, which keep him mobile and pain free (when I take them off to bath him, there is a noticeable difference in his mobility)
He can't walk more than 50 yards now, but thanks to his doggy stroller, he can still come everywhere with me - in style (even the shops - after all, they say "no dogs", not "no buggies"!). It's so much fun, his little sisters commandeer it from time to time, and his "SuperPom" brother (his paws reach my waist when he stands on his hind legs) tries to push them along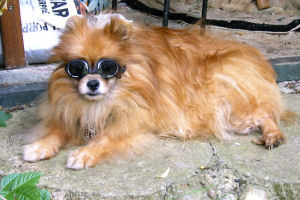 He has a problem with the pupil in his left eye, which is permanently dilated, so to stop his optic nerve from getting burnt in the sun, he now wears "shades" when he goes out in bright sunlight - although they were not bought as a fashion accessory, he thinks he is one cool dude when he goes out in them!
He has now been on Vetmedin for a heart problem for 6 months, but other than that he is happy and healthy - I know he can't go on forever, but he keeps amazing me - I have lost 3 dogs in the last 3 months, all younger than him!
We are looking forward to September 8th, when he will be 17 - and he is expecting a telegram from his Vet!
His 17th birthday
We celebrated his 17th in true traditional way - jelly and cake (chicken jelly & liver cake), and he thoroughly enjoyed a huge marrowbone and pigs ear out in the garden he loved so much. He sat on the lounger and his special swing seat, and went for a spin round Boots in his new buggy (and was admired by all, despite the "no dogs" sign on the doors!)
Sadly he passed away peacefully in my arms at 21.00 on 20th September - just 12 days after his birthday - life for me will never be the same again! Although I have other dogs to ease the pain, Boris was most definitely a one-off - sleeping without him on my pillow for the first time in over 16 years last night was very strange, but me dear little baby (Killbratski) kept kissing away the tears - I think he could be a very close second . . .
See the rainbow bridge tribute

Click here to send me mail.